Tech Diving with Hightide
All of Hightide's Tech Diving Programs are conducted by our specialist instructor Jim Driscoll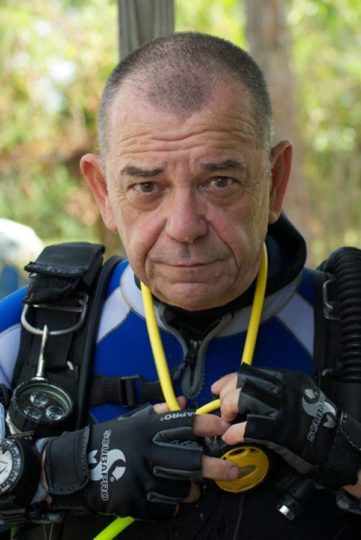 Captain Jim Driscoll is a Viet Nam veteran with more than 40 years of diving & vessel operation experience. He is retired from ~30 years active duty US Coast Guard service.
Jim is an IANTD Instuctor Trainer, Technical, Trimix, Rebreather, Technical Wreck & Public Safety Diver Instructor; NASE Instructor Trainer, Technical, & Trimix Instructor; PADI/DSAT Tec Deep, Trimix, Rebreather & Gas Blending Istructor; PADI Master Scuba Diver Trainer; Emergency First Response Instructor, DAN Instructor and fully certified cave diver.
PADI: Tec 40, 45, 50, 60 and trimix. Sidemount, Technical Sidemount, Rapid Diver and Full Face Mask.
All training is conducted in strict compliance with internationally recognized training agencies' standards. Courses are offered with PADI, PADI DSAT, IANTD, NASE, Emergency First Response or DAN certification as is appropriate for the course.
Please contact us to discuss a tailor-made program that will maximize training value and allow you to meet your goals.
Prices available on request.

PADI TecRec
Technical scuba diving involves going beyond recreational scuba diving limits and includes one or more of the following:
Diving beyond 40 metres/130 feet
Required stage decompression
Diving in an overhead environment beyond 40 linear metres/130 linear feet of the surface
Accelerated decompression and/or the use of variable gas mixtures during the dive
Use of extensive equipment and technologies
In technical diving the surface is often inaccessible in an emergency, so tec divers use extensive procedures, equipment and training to manage the added risks and potential hazards. Although founded on extensive open-circuit scuba technology, tec diving has been revolutionized by the development, availability and reliability of closed circuit rebreathers (CCRs). CCRs have numerous benefits and provide tec divers with significantly more time underwater.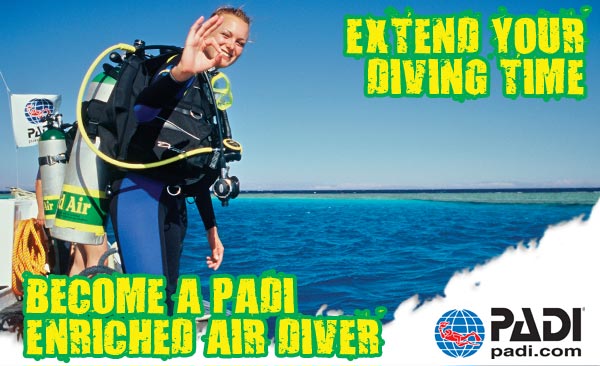 EANx & ADVANCED EAN/NITROX
Nitrox or EAN (enriched air nitrox) is a breathing gas that contains more than the 21% oxygen normally found in our atmosphere and the compressed air used in air diving. The higher oxygen content provides a number of benefits to the diver. These include longer bottom times (depth dependent), a lower exposure to nitrogen, less fatigue reported by many divers and shorter decompression times on many decompression profile dives.
Enriched Air Diver Certification
The Enriched Air Diver course provides the diver with the knowledge required to safely plan and conduct recreational dives using enriched air mixes containing between 21% and 40% oxygen.
Advanced Enriched Air Diver Certification
This course, which is sometimes referred to as "tech light", introduces the recreational diver to many facets of technical diving. Decompression dive planning and gas requirements planning are key elements of this course. As are the use of enriched air bottom gases, decompression on 50% – 100% O2, the use of twin tanks, stage/deco tanks, lift bags and line reels.
Deep Air/Advanced Enriched Air Diver Certification
Deep air diving experience and qualification is a pre-requisite to Advanced Enriched Air Training. This course combines the Deep Air training and the Advanced Enriched Air Training into one cohesive course.

About Trimix
The term trimix is used to describe breathing gases that are composed of three commonly used gases: Oxygen, Helium and Nitrogen.
The principle benefit of trimix diving is the ability to control the END (equivalent narcotic depth) by adjusting the gas blend, thereby reducing the effects of nitrogen narcosis on deep dives.
Trimix diving is an advanced form of diving and should only be undertaken by experienced technical divers with mixed gas/trimix training.
Trimix Courses
There are several levels of trimix training & certification available. Each is designed to train the diver to safely dive with a range of gas mixes and to various recommended maximum depths. Each course also has specific prerequisites which must be considered when choosing a level of training. Trimix courses may also be combined with other technical courses which in some cases allows the student to complete requirements from more than one course in parallel. Combining courses, where appropriate, adds value in that the training cost for combined courses will always be less than the cost of the individual courses completed separately.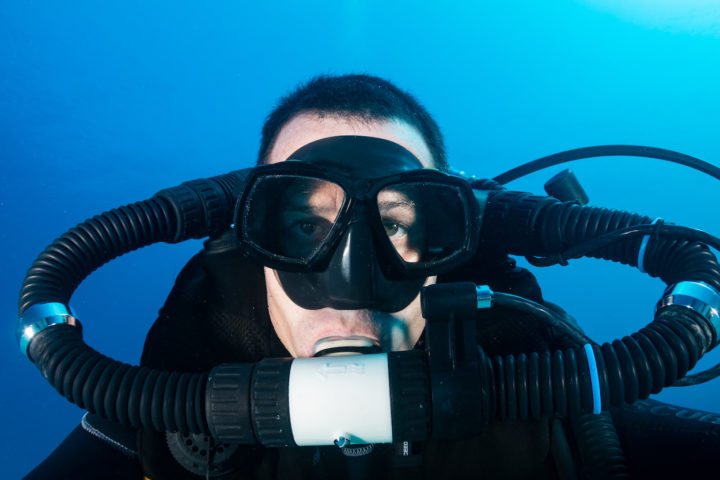 Rebreather Diving
Rebreather diving is underwater diving using rebreathers, which recirculate the breathing gas already used by the diver after replacing oxygen used by the diver and removing the carbon dioxide metabolic product. Rebreather diving is used by recreational, military and scientific divers in applications where it has advantages over open circuit scuba, and surface supply of breathing gas is impracticable. The main advantages of rebreather diving are extended gas endurance, and lack of bubbles.
Rebreathers are more complex to use than open circuit scuba, and have more potential points of failure, so acceptably safe use requires a greater level of skill, attention and situational awareness, which is usually derived from understanding the systems, diligent maintenance and overlearning the practical skills of operation and fault recovery.

Wreck Diving
Wreck diving is a fascinating specialty that appeals to a wide range of divers. Whether searching for artifacts on a ship that sank decades or even centuries ago or diving on a ship that was recently sunk as an artificial reef, to get the most out of your dives and to do so safely requires training.
Diving on wrecks is somewhat unique in that each diver can decide to what level they would like to "wreck dive" and then train accordingly. Some divers are interested in viewing the exterior of the wreck and the marine life that they attract. Others want to explore deep inside the wreck.
One of the great things about wreck diver training is that from the very first dive, training takes place on a wreck. One can work their way up through the courses while enjoying doing wreck dives at their current level of certification.
Wreck Diver Certification
The Wreck Diver course teaches the diver how to survey a wreck, identify potential hazards, navigate on a wreck and to make limited penetrations into the wreck within the natural light zone.
Advanced Wreck Diver Certification
In the Advanced Wreck Diver course the divers learn and practice the techniques required to safely penetrate wrecks beyond the natural light zone. Divers learn how to use primary lines & safety lines, gas planning, gas matching, and emergency procedures specific to the overhead environment.
Technical Wreck Diver Certification
The Technical Wreck Certification course adds the use of decompression profiles, NITROX, and the use of accelerated decompression profiles to the Advanced Wreck Diver curriculum.
HIGHTIDE Watersports
Coral Reef Club
St. James, Barbados ~ W.I.
+1 (246) 432-0931
+1 (246) 432-6628 Fax
---
(800) 970-0016 Toll Free
(800) 513-5763 Toll Free